Holiday Service Hours
Holiday Hours and Reading Week Schedule

As Thanksgiving approaches, we at Niagara Region Transit want to ensure you have all the information you need to plan your travel during the holiday season. Additionally, we'd like to remind our riders about the upcoming Reading Week at Brock University, which reduces our regular bus schedules for Brock-specific routes.
---
Thanksgiving: Monday, October 9, 2023
On Thanksgiving Day, which falls on Monday, October 9, 2023, Niagara Region Transit will operate on a holiday schedule. This means there will be some adjustments to the usual bus service hours and routes. If you plan to travel on Thanksgiving, make sure to check our holiday service hours on our website.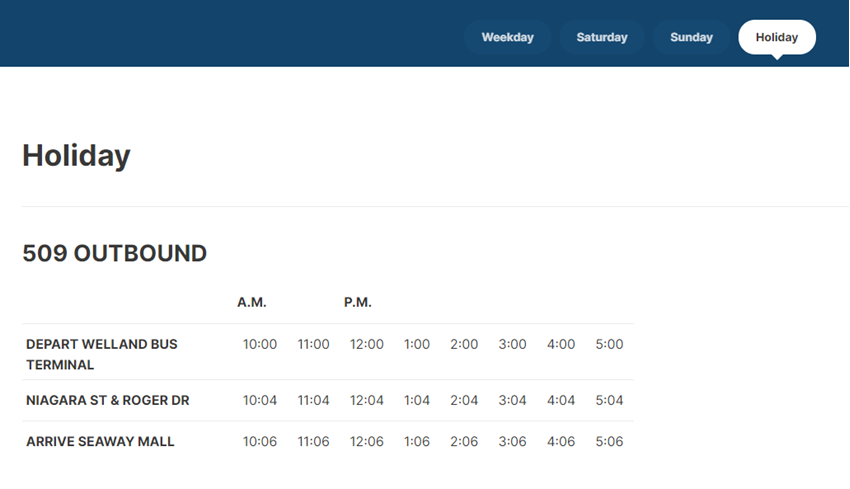 ---
Reading Week at Brock University: October 9-13, 2023
Brock University's Reading Week is just around the corner, taking place from October 9 to October 13, 2023. During this time, routes specific to Brock University will run on a reduced schedule. This reduced schedule may affect the frequency and timing of buses, so it's essential to plan your trips accordingly.
We've highlighted any changes in grey on our schedule page to make them easy to spot. Simply look for the grey highlights to see which bus times are affected during these periods.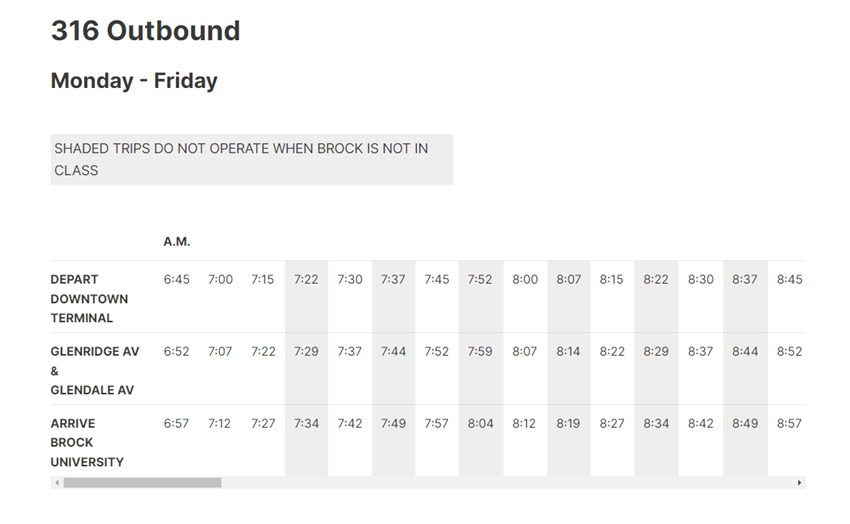 ---
Stay Informed: Use our Apps
Planning your journeys during the holidays or Reading Week is a breeze when you have the most up-to-date information at your fingertips. Try using the Transit App to ensure you're well-prepared and won't encounter any unexpected delays or disruptions.
Niagara Region Transit strives to provide reliable transportation services, even during holidays and special events. We appreciate your understanding and cooperation as we work to accommodate your travel needs.
We wish you a happy Thanksgiving and a productive Reading Week!
Safe travels with Niagara Region Transit.