303 / 403 / 315 / 415 - St. Paul Street West Closure
Starting Sunday, November 19, 2023, detours will be in effect for routes 303/403/315/415. The detour will affect the section of St. Paul West between Pelham Road and Louth Street due to the replacement of the St. Paul West CN Rail Bridge.

The St. Paul Street West CN Rail Bridge needs to be closed for replacement. This closure will require the detour of two bus routes.
Detour Information for Routes 303/403 and 315/415
Route 303/403 Detours:
The buses on Routes 303 and 403 will not be operating on St. Paul St. West between Pelham Rd. and Louth St. Additionally, stops on Chetwood St. and Merigold St. will be out of service.
Instead, buses will detour via Louth St., proceeding to the Smart Centre. From there, they will continue along Fourth Ave., then turn onto Ontario St., and follow through to Church St. to return to the Downtown Terminal.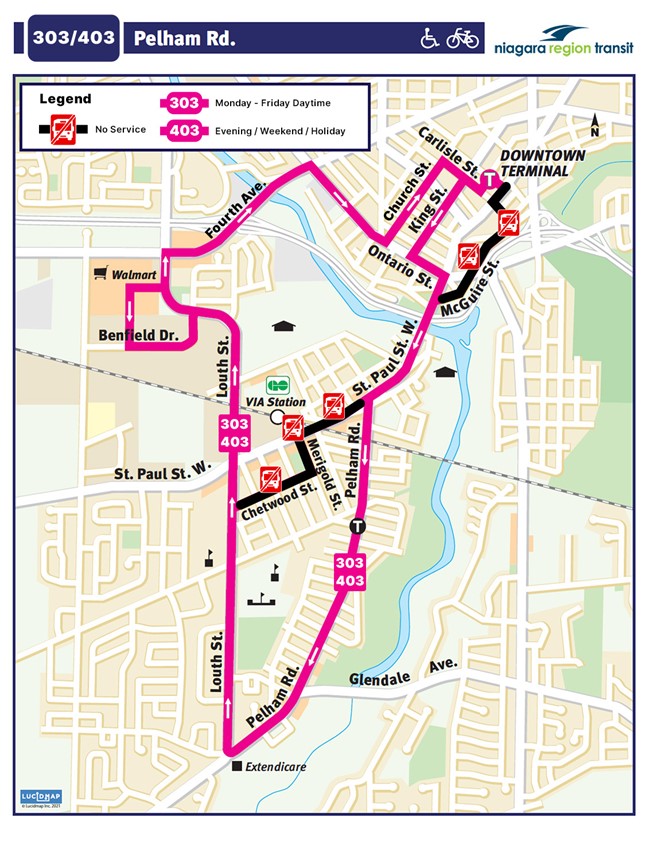 Route 315/415 Detours:
For Route 315/415, outbound buses will travel from Ontario St. to Fourth Ave., then head south on Louth St. and rejoin the regular St. Paul St. West route towards Vansickle Rd.
The inbound buses will follow the reverse path, ensuring continuity of service in both directions.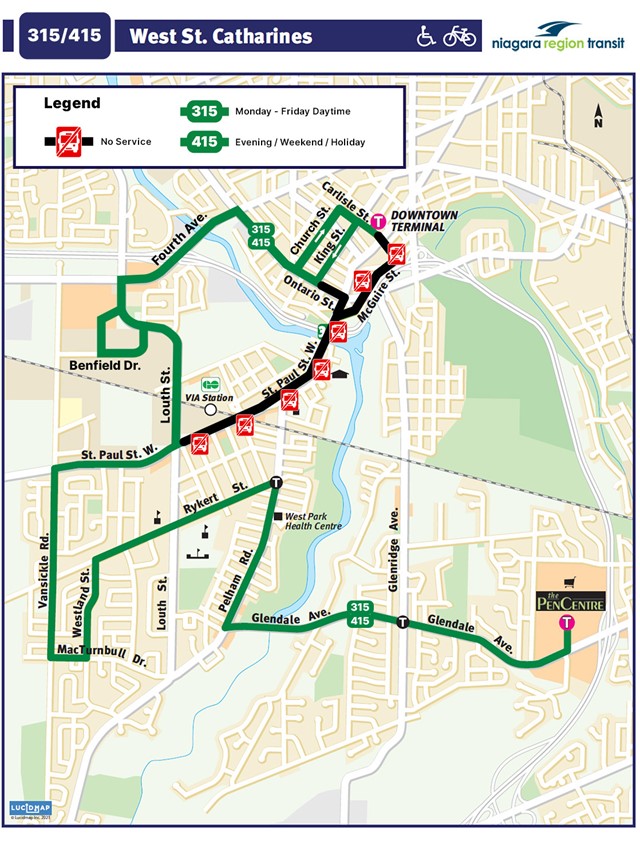 Rider Information
Service Interruptions: The affected section of St. Paul St. West will not have service, including Chetwood St. and Merigold St.
For Riders in the affected area, you'll need to catch the bus on Pelham Rd., Rykert St. or Louth St.
Planning Your Trip: Riders are advised to allow extra travel time and check the latest schedules and detour maps available on our website and transit apps.
Our Commitment
We are committed to ensuring that this necessary infrastructure project impacts our riders as little as possible. We appreciate your patience and understanding during this time and are dedicated to providing reliable and safe transportation options throughout the bridge replacement process. On the positive side, these detours will offer double the stops at the Smart Centre (Walmart, Real Canadian Superstore, etc.)
Contact Us
For more information, service updates, and inquiries, please get in touch with our customer service team or visit our website. Your smooth commute is our priority, and we are here to assist you through this transition.